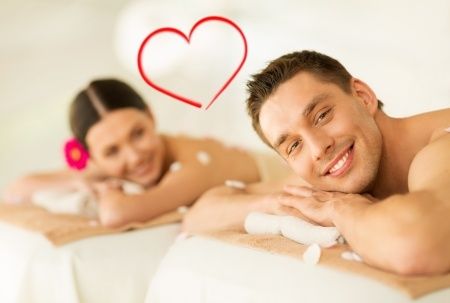 Valentine's Day is just around the corner. What are you going to get your special someone? Candy's out - those post-holiday resolutions to lose weight put a damper on that one! Flowers are a possibility, but they can be a bit pricey this time of year. There's always a romantic dinner with two hundred of your closest neighbors....
Imagine a hour of total pampering, centered around you and your love. Soft music and lighting, flickering candles, and uninterrupted time together that will enhance your relationship... What is this blissful dream??? You might be surprised.
What is it?
Couples massage is offered at spas throughout the world. Put simply, it's a massage session in which two people are massaged at the same time, in the same room, on separate massage tables, by two different therapists. Couples massage is just like regular massage, but you share it with a spouse, significant other, friend, mother, daughter, or sister. It's the opportunity to spend dedicated time that's all about the two of you.
What Should I Expect?
If you've never had a massage before, be sure to check out our blog posts "What Do I Wear? Massage Tips part 1" and "Time to Relax - Massage Tips part 2" for great information on what to expect before, during, and after a massage. The difference between an individual massage and a couples massage is that as a couple, you share a massage suite with your second half. Etiquette dictates that you're the large and in charge person during your massage. It's ok to talk during, but only if you want to. Are the lights too bright? Ask to have them dimmed. Is the music distracting? Let your therapist know. If you're a massage junkie, you already have an idea what you like and don't like. Be sure to clearly communicate your preferences with your therapist during your couples session to get the most out of your massage.
What are the Benefits?
Of course you'll both feel very relaxed after your massage. That's a no-brainer. Couples massage is also a relationship builder. It helps the two of you reconnect in a neutral, safe environment; it helps you release the past and future so you can focus in on the here and now; it increases feelings of affection; it increases the levels of oxytocin, AKA "the cuddle chemical'; it encourages bonding, and in the season of love, it puts you in the mood for some lovin' action.
Spas often have great deals for couples just in time for the big day. Often, in addition to a special rate, you may get those oh-so-yummy chocolates or flowers and perhaps some champagne. This Valentine's Day, gift the gift that will be remembered for years to come. And, let's be honest, it's a gift the giver will enjoy as much as the recipient! Enjoy your time for two.
Written by: Heather Doering
Owner, Ace in the Hole Branding