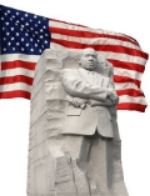 I ran across this beautiful quote, spoken by Dr. Martin Luther King, Jr, as I searched for inspiration to share on his birthday, January 15: "What are you doing for others?" As I pondered these 6 words, I imagined what life would look like if we abided by them daily. Here are my thoughts:
We'd be less "It's all about me" and more "How can I help you?"
Waving on the expressway would include the entire hand, not just one appendage
Work would no longer be about self promotion but making others shine
Coins would freely fall into the cups of the homeless. Better yet, homelessness would disappear
Snarky social media posts about others would turn into affirmations
We'd hold the door every single time we walk into a building
We'd freely give for the joy of giving - our time, our friendship, our passion, our love, our commitment to causes that capture our hearts...
We'd embrace kids faced with and challenges and mentor them, teaching them to "do for others" as well
There'd be a lot less hate and a lot more acceptance
We'd be closer to living Dr. King's Dream:
"...I have a dream that this nation will one day rise up and live out the true meaning of its creed: 'We hold these truths to be self-evident; that all men are created equal'..." Dr. Martin Luther King, Jr.
So, what are YOU doing for others?
Written by: Heather Doering