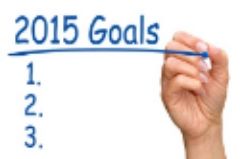 As we begin a new year, it's common to set resolutions. Our commitment to them usually wanes around the third week of January, turning them into distant memories by Valentine's Day.
This year, consider setting goals. Goals take us from where we are to somewhere we've not yet been. Goals are targets, objectives, and end marks. They are not things to "do" but rather they are things to achieve.
As you set your 2015 goals, be SMART about it. I've assembled the following information for goal setting from a wide variety of experts and articles and condensed it into a framework to formulate great goals. To be SMART, goals should be:
Specific - the more Specific, the better

When thinking Specific, remember the 5 W's:

What do I want to accomplish?
Why - evaluate reasons, purposes, or benefits for accomplishing the goal
Who is involved in my achieving the goal?
Where? Identify a location
Which? Identify requirements and constraints that may interfere with your goal

Measurable - establish concrete criteria for measuring progress toward the goal; without being able to evaluate progress, how will you know when you've achieved it?
Attainable - the goal should stretch you a bit but be realistic as well; when you identify goals that are most important to you, you begin to figure out ways you can make them happen!!!
Relevant - the goal should create forward motion and work in alignment with other goals

Does the goal seem worthwhile to you?
Is this the right time to strive for the goal?

Time-Bound - create a time frame in which you'll accomplish your goal including an end date; commitment to a deadline helps you focus, creates forward motion, and helps prevent the goal from being hijacked by the many day-to-day crises we encounter
Now that you know how to develop a SMART goal, consider the following:
Is it your DESIRE to achieve that goal? The desire must be real, sincere, and intense. If you set a goal you don't really care about, you won't be motivated to work toward it
Is the goal YOURS or someone else's? That a really important factor to consider. If you set a goal because it's important to someone else, you're much less likely to see it through. The your needs to be yours. OWN it!
WRITE DOWN your goal and read it every day. seeing the goal, reading it, and saying it OUT LOUD will instill it in your mind, keep you focused, and help you keep your eye on the prize!
Make a PLAN that's very detailed and that contains many tasks (things you need to do to accomplish the goal). Without a plan, how will you know how to reach the destination? Think of this step as building a road that you'll travel along to reach your destination
VISUALIZE yourself having already accomplished the goal - laying on the beach, turning in your 2 week notice, cutting up the paid off credit card...
Find an ACCOUNTABILITY PARTNER to hold you to your goals. It's easy to weasel out when things don't go as planned. Being accountable to someone other than yourself makes it that much harder to give up
Here's to a stellar 2015. Be SMART, be faithful in your endeavors, and be true to yourself by seeing those goals through. Wishing you joy in the journey!
Written by: Heather Doering